Air Liquide is being encouraged to expand its business operations in Vietnam.
During a meeting with Air Liquide's Executive Committee yesterday (5th March), Vietnam's Deputy Prime Minister (PM) Trinh Dinh Dung said the country is continuing to prioritise the development of the energy sector, especially: renewable energy; the manufacturing and processing industry; supporting industries in the fields of computer manufacturing, phones, automobiles, and petrochemicals.
The Deputy PM said these are all the sectors and fields of Air Liquide's potential and advantages.
Air Liquide has been present in the Vietnamese market since 1996 and is now a major industrial gas supplier with ten production units across the country, providing auxillary gas for the automotive, metallurgical, electronics, food, petrochemical and healthcare industries.
According to the Vietnam Government, Air Liquide plans to double its total investment in Vietnam in the near future to improve its industrial gas supply capacity, serving the country's demands for industrialisation, modernisation and clean energy development.
Deputy PM Dung applauded the business production efficiency of Air Liquide in Vietnam, highlighting that the Vietnam-France strategic partnership is growing positively and smoothly, especially in the field of economy-trade-investment.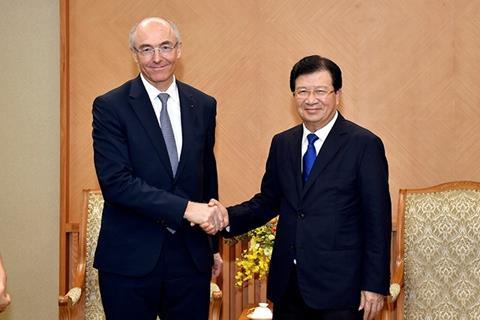 Source: Vietnam Government
Air Liquide's CEO Benoît Potier and Vietnam's Deputy Prime Minister Trinh Dinh Dung